Koreatown Youth + COmmunity center
Mural + POSTER campaign
Studio Number One worked with Koreatown Youth + Community Center's Clinical Services to create a trilingual mental health awareness campaign. The goal was to reach members of the community of all ages and walks of life and to communicate that "it's okay to reach out." The use of modern design style, typography and vibrant colors allow KYCC to talk about mental health in a positive and uplifting way.
eARTH FOR AMERICA
CAMPAIGN POSTER
Studio Number One worked with The Climate Reality Project and two divisions of TBWA Worldwide — TBWA\Chiat\Day, its U.S. division, and the nonprofit MAL\FOR GOOD, a social-impact agency to create the official campaign portrait for "Earth," a penguin who is running for Congress.
This is the main campaign poster for former Vice President Al Gore's new get-out-the-vote initiative "Earth for America," which encourages young citizens to register to vote and to support green policies and candidates at the polls. Earth, the animated emperor penguin's platform includes renewable energy, clean energy jobs, electric vehicles, land conservation, health, and clean air and water.

GIRLS BUILD LEADERSHIP SUMMIT 2018
EVENT BRANDING
Studio Number One was excited to work with the L.A. Promise Fund for the second year to design the look and feel for their annual #GirlsBuild summit. This year's event united with When We All Vote and over 10,000 young women from local public schools to discuss civic engagement, voter registration, and mid-term elections!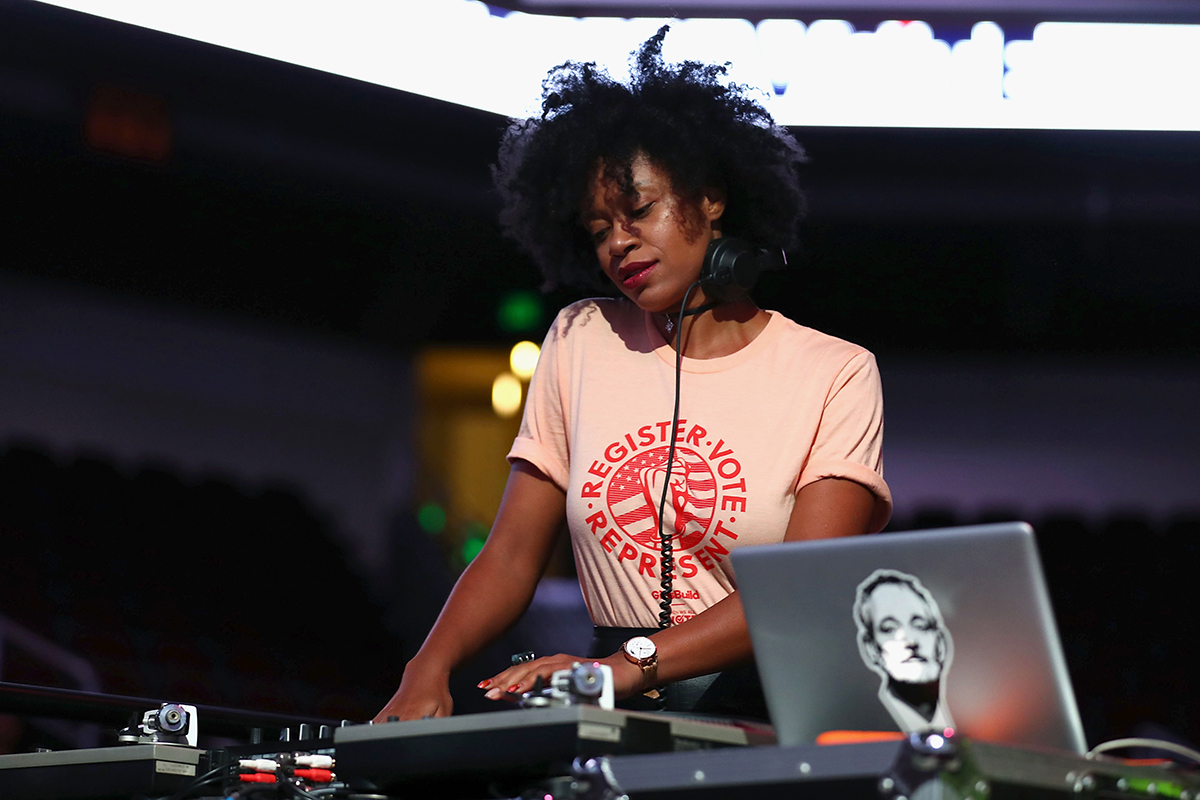 THE CHURCH OF ROCK AND ROLL
BRAND IDENTITY & GUIDELINES
Studio Number One worked with The Church of Rock and Roll to create their brand identity and brand visual guidelines. The Church of Rock and Roll is a lifestyle and a movement which provides physical and digital spaces for people to come together around shared experiences of discovery and fun under the umbrella of common good. They use the word "church" to mean community and connection with anyone anywhere. To them "rock and roll" means expression, freedom, presence and bravery. The use of bold colors, strong typography and DIY techniques help to visually communicate the personality and vibe of The Church of Rock and Roll.
the art of elysium
BRAND IDENTITY // website // advertising // event collateral
The Art of Elysium empowers artists and communities of need to join together and emotionally triumph over their circumstances through art.
Studio Number One has been long time supporters of the charity and did an entire brand refresh in 2016. A new logo, brand identity, and website was designed to give the Art of Elysium a new elevated look and feel.
GIRLS BUILD LA LEADERSHIP SUMMIT 2017
INDOOR MURAL // EVENT APPAREL
Girls Build LA, a program sanctioned by the LA Promise Fund, challenges young women from public middle and high schools in Los Angeles, CA to use STEM principles to effect social change. Studio Number One was approached to create t-shirts as well as a selfie-worthy indoor mural for their 2017 Leadership Summit , which featured speakers Hillary Clinton and Kamala Harris.
MAKE AMERICA SMART AGAIN
BRAND IDENTITY // WEBSITE // ADVERTISING // EVENT COLLATERAL
Studio Number One believes that design can start a revolution and that it is important to take our beliefs, thoughts, passion and talent and TAKE ACTION. Just one small idea has the potential to grow to something larger and can have real impact on an important issue, our communities, environment, country, or the world! #MakeAmericaSmartAgain was one of those ideas...
Shepard and his wife Amanda do their best to stay informed about politics and news covering issues that may impact our country, its citizens and the world at large. Over time they noticed a trend of apathy in the U.S. population and have witnessed the spread of misinformation amongst citizens. The Faireys created #MakeAmericaSmartAgain (MASA) as a call to action for Americans to be more informed, to start healthy dialogues with each other, and to be more involved in our democracy, especially during the 2016 U.S. presidential election. While Amanda and Shepard are personally outspoken in their beliefs, it was important to them that #MakeAmericaSmartAgain be a non-partisan movement that is inclusive of all people and their beliefs.
As we head into 2017, post-election, there are still lingering concerns for the future of our country, its people, and the planet. MASA empowers citizens to stay engaged, know the facts, and hold each other to higher standards. The future is unwritten, and it's ours to write.
FOR MORE INFORMATION VISIT DUMBISOVERMASA.COM
ECHO PARK RISING
IDENTITY // BRANDING // ENVIRONMENTAL DESIGN // BRANDED MERCHANDISE
Studio Number One contributed their designs to support local music festival, Echo Park Rising. Retro ice cream themed banners showcasing the day's lineup were created for the main stage and were a huge success among festival attendees. Due to the positive feedback, the organizers asked Studio Number One to rebrand the festival by designing a new logo and identity that would be used to promote the event annually.
ECHO PARK COMMUNITY MAP
ILLUSTRATED MAP // FINE ART PRINT
In celebration of the history and evolution of our neighborhood, Studio Number One created a map of Echo Park's classic and up-and-coming independent businesses. Foldable maps were distributed to the community and the fine art print is available online at Subliminal Projects.
EB STUDIOS
BRAND IDENTITY // WEBSITE // PROMOTIONAL MATERIALS
EB Studios is the only philanthropic streaming video platform. EB Studios funds, produces and releases the work of emerging artists and provides mentorship from prominent industry professionals.
Studio Number One has created a dynamic identity system using refined typography, gritty textures and a moody palette for the organization that speaks to its audience of discerning creatives.
NON TOXIC REVOLUTION
BRANDING // MURAL PROGRAM // POSTER DESIGN
Non Toxic Revolution's mission is to inform, educate, and inspire young people to revolt against the toxic chemicals in the environment and in everyday consumer packaged goods, especially those linked to causing breast cancer.
Studio Number One designed a limited edition poster set, stylized to represent Non Toxic Revolution's five sections: your house, your mouth, your body, plastic sucks, and heart and soul. A bold constructivist-style approach was used to drive the message to the masses.
The campaign benefitted Keep A Breast, which encourages the younger generation to embrace prevention as a deterrent to breast cancer and other diseases.